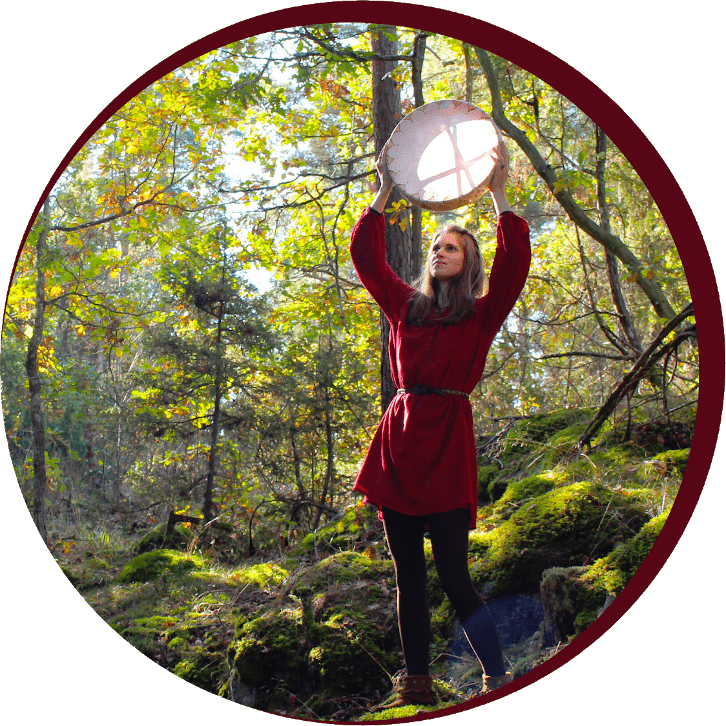 Do you want to have a life-changing experience?
 

Dive in and explore yourself

.

Learn the ancient methods of shamanism to support yourself
and others on their healing path.
Stories


David
Wow! I am very satisfied with my Yoga-Shamanism studies with Leni and Nipun. They are dedicated teachers, with a depth of experience. Leni and Nipun are always professional, engaging and caring. They weave together principles, traditions and techniques in ways that are fun and lively!! Individual expression and feedback are encouraged. We explored healing techniques, journeying, power animals, and compassion-based intuition — as well as yoga and Ayurveda. I had the training several months ago, and I find it helpful all the time.
Amy
Being very new to shamanism I was not sure what to expect, but during those weeks I learnt so many techniques that I am now applying to my life. The work was very deep so it was important to me that the class size was so small.
I found that the combination of morning yoga and study of anatomy and Ayurveda worked really well with the practical shamanism classes. The yoga and meditation/mantra chanting really helped me to start the day feeling grounded and ready for the shamanism class. I was already familiar with Ayurveda but it was good to learn more. Overall I really feel that the course has given me a solid foundation on which to continue my shamanic practice.
What awaits you
Everyone can learn the methods of shamanism and use them to solve life and health problems, for themselves and for others. Shamanism is also a path to higher consciousness. Shamanic work makes it possible to look behind the appearance of the visible world and understand profound connections.
Yoga and Ayurveda
During the training you will also learn about Ayurveda and how you can use it to heal your body and keep it healthy. In addition, you will attend the yoga class with Nipun (Indian yoga teacher) in the morning. This will give you a deep insight into this ancient transformation science.


Topics & Content
Shamanic World View
Other world
Grounding & Centering
Cleansing of your Aura
Chakracleansing

Altered states of consciousness

Contact with power animal and spirit teacher
Illness and healing
Cleansing of an energy field
Soul Retrieval
Aura surgury
Shadow work
Fire ceremony
Cleansing rituals
Shamanic smudging
Plantmagic
Celtic circle of the year
Shamanism Course in South Sweden
Includes:
Welcoming and closing ceremony

Training

Accommodation in a single or twin room (according to availability)

All meals (vegetarian / vegan)

Course material

Certificate

Entry to the Inner Circle
Early Bird Discount: For bookings and payments at least three months before the start of the course, we grant a discount of €150,-.

Special student discount: Students receive a discount of €200,- on presentation of a certificate of enrollment. Student discount cannot be combined with early bird discount.
Ein Buchungsbetrag von €500,- ist zum Zeitpunkt der Anmeldung fällig. Überweisungsgebühren werden vom Schüler getragen. Der Restbetrag wird spätestens ein Monat vor Kursbeginn beglichen.
Die Kursgebühr ist nicht übertragbar und nicht erstattungsfähig. Im Falle einer Stornierung kannst du die Ausbildung innerhalb eines Jahres nach Anmeldung nachholen und der Betrag wird dafür gutgeschrieben.
Für Ratenzahlungen oder weitere Informationen kannst du mir gerne schreiben. (mail@lenisharma.com)

Termine
| Shamanism Course | Dates | Status |
| --- | --- | --- |
| 2 week Shamanism Course June 2021 | 13th-26th June 2021 | Sign up now |
| 2 week Shamanism Course August 2021 | 1st-14th August 2021 | Sign up now |
| 2 week Shamanism Course September 2021 | 5th-18th September 2021 | Sign up now |
| 2 week Shamanism Course November 2021 | 31st October-13th November 2021 | Sign up now |
If you don't have time on these dates, you can also attend our online shamanism course!
Venue
The training takes place in our yoga and shamanism ashram in Virserum / southern Sweden. Arrival is possible by plane, train or car. Come to yourself and enjoy the breathtaking beauty of Swedish nature.
This slideshow requires JavaScript.